CSCS, CPCS & OTHER CARD SCHEMES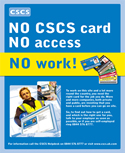 We carry out online checks on CSCS, CPCS & OTHER CARD SCHEMES for all our Construction Trades and Labourers. Help your workers stay qualified, competent and safe.

For workers, a card scheme allows you to prove that you can do your job, and that you can do it safely.

Almost all of our Construction Clients require that all site operatives, whether directly employed or provided by Bamford, are CSCS certified.

In a nutshell, no card means no job in many cases.

If you have a lapsed card or need to apply for your first one, Bamford can help guide you towards an appropriate registered training provider. In some cases the training may be subsidised.
About CSCS
Set up in the 90s, the scheme keeps a database of those working in construction that achieve (or can demonstrate they have already attained) an agreed level of occupational competence. Successful applicants are issued with a card giving them a means of identification and proof of their achievements.
Today there are over 1.7 million cards in circulation, and they're increasingly demanded as evidence of occupational competence by many, including contractors, public and private clients.
CITB administers the scheme under contract.
Cards cost £30 and the Health, Safety & Environment Test is £17.50.
You can apply for a card directly or through your employer, however there are organisations who offer application services. If you are being charged more, check you understand what additional services you will receive from these organisations.
For more information about CSCS, the Occupations covered and how to apply for a card, please contact us or the CITB directly:
Tel: 0344 994 4777
Email: This email address is being protected from spambots. You need JavaScript enabled to view it.
Website: http://www.cscs.uk.com/