Local independent recruitment agency Bamford Contract Services celebrates 30 years in business !
Established in 1989 by founder and Managing Director Steve Berry, Bamford Contract Services has been successfully providing quality staffing solutions to commerce and industry in Rochdale and across the North West for the past 30 years.
Bamford Contract Services currently employs 10 staff working across five different sectors serving the construction, industrial, engineering, food and commercial industries throughout the North West and Yorkshire.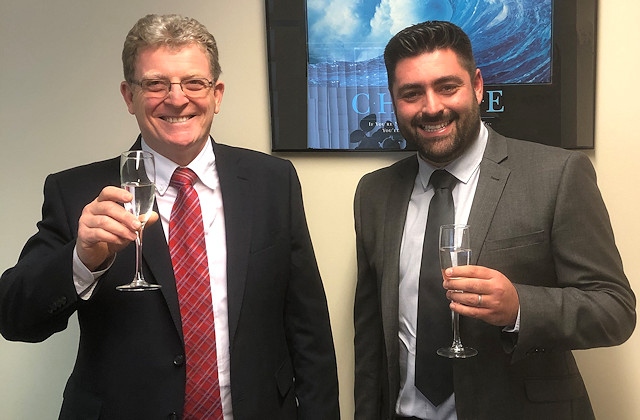 Steve Berry and Daniel Calvert,
directors of Bamford Contract Services Ltd
Mr Berry said: "I am delighted at how far the business has come over the last three decades. There have been many tough challenges on the journey and no doubt many more lie ahead, but we have met each one head-on with the result that the business continues to thrive and forge ahead.
The company has achieved its milestone target sales exceeding £5 million and continues to work towards its next goal of £10million.
Operations director, Daniel Calvert, has helped to build and develop a fantastic team since he joined the business in 2012 and they have all played a significant role in helping to transform the business into the success it is today. I am immensely proud of everyone who continue to deliver excellence week-in, week-out, year after year through a combination of expertise, hard work and a sheer determination to meet the ever-changing needs and demands of our clients and candidates."
Mr Berry continued: "Our roots were put down serving the temporary labour needs of the construction industry in Manchester and that sector remains stronger than ever.
There continues to be huge demand for construction personnel of all disciplines and under the leadership of construction manager Craig Williams, who has been with the business for almost 14-years, we fully expect this sector to continue to grow from strength to strength. The industrial and engineering division is led by Andrew Guthrie, another long serving member of the team who has also seen tremendous growth in those sectors.
I'd like to say a huge thank you to our clients and candidates, both past and present, and to our team of talented recruiters and administrative staff, without whom we would not have become one of the best specialist recruitment agencies in the region! "
THANK YOU!
Bamford Contract Services Limited
Tel: 01706 860070
Facebook: bamfordcs